A Survey of Articles Concerning Late Medieval and Early Modern Ladies' Headwear.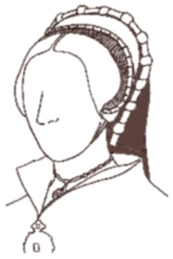 Hidden in Plain Black: The Secrets of the French Hood.


The article was published in Medieval Clothing and Textiles, vol. 14, 2018.
The article is now also available via JSTOR and Cambridge University Press.
A tutorialvideo explaining the craftmanship involved in my experimental reconstruction of a French hood was created as an appendix to the article.


A French Hood Set Against a Dating.
An unpublished paper concerning the dating of the Portrait of Elisabeth Donche in The Art Gallery of New South Wales, Sidney, Australia.





Speculations Regarding the Portrait of Cornelia Sandrien.


An unpublished paper discussing the traditional dating of the portrait and the equally traditional identification of the sitter, based on the sitter's headwear.

Link to index page